Our Services
Designing a Modern and Visually Appealing Website in Toronto
While developing a Modern UI based website that appeals to a broader audience, the first most important thing is to have a visually appealing and professionally customized logo. As an integral part of your business brand, it should be positioned appropriately on your website and utilizes color that could be matched with the color of your website template. We are a Toronto based Web Production company that utilized powerful tools and advanced tech to enhance web outlook. We use high quality images on each and every corner of the website. For the easy access to your home page, we put a link on your logo. We also make sure that your site is clutter free to let visitors stay on your website, not missing out the important content of the page.
Designing Visually Appealing Websites for Masses
Not only this, we design your header and footer such that they have limited and important links so that the visitors don't get distracted or quit the site. We limit the content size of each paragraph into short, few lines. We, a Toronto Web Design Agency, believe that there should be enough white space (gap) between images and written content, so that the visitor easily understands what your site is offering. As a well-known Canadian web firm, we make moderate use of colors.
Remember that the trends of design industry keep changing and be sure to connect to a web firm that keeps updating their UI skills.
Give you business website the same importance as you would to an actual business location and it wear down and maintenance.
Neutral Shades for Website Design
If you are looking for a visually appealing website for your business, mind it that neutral shades are the best option for your website to look up-to-date and modern visually. Try to focus on bright colors only on the headlines, so that the visitor immediately go through that content. Your header, footer and logo colors should complement each other to look pleasing.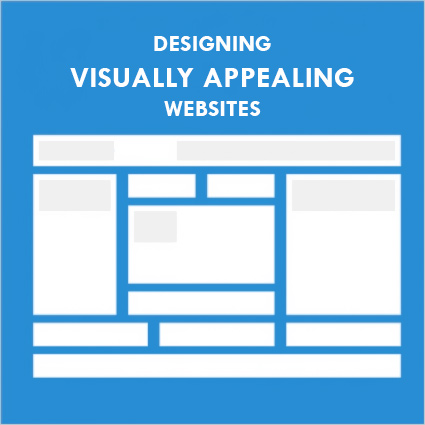 Not just the text and headlines, when it comes to selection of photographs, one should know that use of generic photographs will leave a "standard-website" type impression on the website visitor. Always use good quality high definition photos that have not been used by your competitors on their website and those images should have connection with the written content. While working for Modern Website Designing in Toronto, we build highly visual impacting websites and by Modern & Visually Appealing, we never meant that you forget to write quality content and just concentrate on visuals. Also remember that some users are very picky with what is being said. Also, if you want some particular to be read by your visitor, the key is to highlight it with some sign or an arrow pointing towards that area or something similar.
When I see some of the newly built website in Toronto by local businesses who use service of Web Providers that lack experience in the field, I feel like pain that these businesses have went through after spending so much of their monetary assets and getting no results in return. People these days are not only using (surfing) laptops to see your website, but on mobile devices also. So, using a universal font that is easy to read is the best option for a website to be user friendly. Font size should be kept in mind to be read on all devices. And also use only two font families to minimize the loading time. Use a font size that allows no more than 14 words per line.
Designing each page as a landing page with all the key information tends to add appeal and modern look to the website where the user will be able find all information required on the same page without navigating through other links. would be the best bet to attract more visitors. Whatever page the visitor lands on, he will be able to get all the information on that very page. Also, always put your address, phone no./email id. on top of your website, so that the visitor immediately contact you without wasting of time in this fast pace of life as searching your address elsewhere will be frustrating. If you want a Modern Website for your Toronto Business that has an appealing User Interface, contact our Web Development Agency and we will design a responsive website for you, so that it could adapt to the browser size automatically without obstacles for the visitor to stay and enquire about your business services.
To boost your business, we also include Facebook, Twitter, Google+ links on your website to help spread your brand popularity on all social networks. These media sites will help your site to share your products and for the visitors to stay connected. We also put a social media button next to each product on your website for your visitor to get the immediate access to share your product on social media. Also, getting in touch with a reliable SEO company can help you get your website setup perfectly.
We will help you in Designing a Website in Toronto that will make your competitors eyes rolling and our affordable cost will help you to get a website that your competitor wont we able to find anywhere else in the local market. Call us today to get free consultation and ask us how we can help your business.